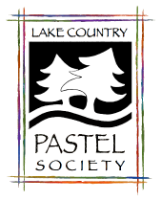 Lake Country Pastel Society started January 1998.
In April of 1997, four pastel artists were visiting at a friend's opening exhibit. All four wondered if there was a pastel society in Minnesota. They searched, but didn't find one. By word of mouth, they found enough interested pastel artists to form a society, with elected officers and board members. After many informal planning meetings, the society was off and running.
The first LCPS meeting was January 13, 1998 - the coldest night of the year - and yet 45 people attended.
The first few years, members enjoyed and participated in exhibits, workshops, meetings, and a newsletter called Dust in the Wind. By the second printing of the newsletter, the society had 79 members.
Lake Country Pastel Society has expanded from the Minneapolis/St. Paul area to the whole of Minnesota and into neighboring states, with members living as far away as Australia.
Many LCPS members go to the International Society of Pastel Artists conferences, and participate in the IAPS exhibits and workshops.

Mission Statement:
We seek to unite artists from beginners to professionals who are interested in the pastel medium and to serve their needs by encouraging artistic growth and development through education and sharing. We also work to create public awareness of pastel as a unique and beautiful art form.