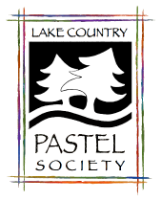 Become a Member
To become a member download our New Member/Renewal form (PDF). Mail form and your check for $30.00 (payable to the Lake Country Pastel Society) to:
Susan Warner
2645 Fillmore St. NE
Minneapolis, MN 55418
If you prefer, you can now apply online and (optionally) pay with PayPal.
Questions? Send an email to: susanmwarner@hotmail.com (please type: "LCPS Membership" in the subject line)
Memberships are for one year and run through the calendar year (January 1 – December 31)
Benefits of Membership
Automatic membership in the International Association of Pastel Societies.
Receive six issues of the bi-monthly newsletter, Dust in the Wind, which is full of information about pastels, exhibits, workshops, grant opportunities, and Society and member news.
Educational opportunities at six bi-monthly meetings including demonstrations, guest speakers, and critique sessions.
Networking opportunities. Become a member of a dynamic and energetic group, sharing and learning in a supportive environment.
Mentoring opportunities with skilled pastel artists. Click here to download Mentoring Questionnaire.
Exhibit opportunities at a Spring and a Fall Show open only to members, with the potential of prize recognition.
Exhibit opportunities through our website, currently allowing three pieces per artist.
Workshop opportunities (at an extra cost). Every year we sponsor a 3-5 day workshop with pastel artists of national renown, and we offer mini workshops led by skilled artists. Stay tuned to our website and newsletter for more information on these exciting workshops.
Questions? Comments? We'd like to hear from you! Email us at: contact@lakecountrypastelsociety.org.